Microsoft 365:n perusteet
Microsoft 365 on pilvipohjainen tilauspalvelu, joka kokoaa yhteen pakettiin kaikki Office 365:n sovellukset ja palvelut, Enterprise Mobility + Securityn ja Windows 10:n.
Microsoft 365 tarjoaa täyden valikoiman yritysluokan yhteistyövalmiuksia ja edistyneitä turvatoimia – edullisemmin kuin ostettaessa sovellukset erikseen.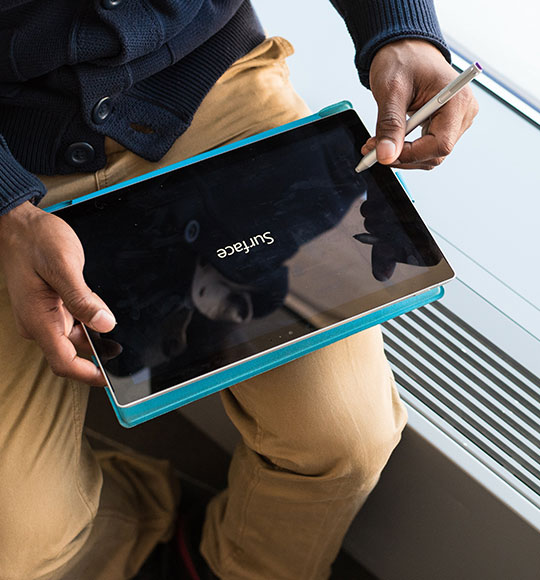 Turvallisia, voimakkaita etuja liiketoimintaan
Microsoft 365 on täydellinen, moderni ratkaisu työpaikoille – se vastaa työpaikkojen tänä päivänä kohtaamiin tärkeimpiin haasteisiin.
Lisääntynyt tuottavuus
Integroidut yhteistyövälineet ja jatkuva käyttövalmius.
Helpotettu laitteiden hallinta
Työnkulun siirto on turvallista ja sujuvaa eri laitteiden ja sijaintien välillä.
Älykästä turvallisuutta
Aina ajantasainen työntekijöiden, datan ja asiakastietojen suojaus.
Selkeytetyt työnkulut
Varmista tiimien tiedonsaanti ja kehitä liiketoimintaa.
Kustannussäästöt
Kokonaisvaltainen pilvipalvelu tekee kolmannet osapuolet tarpeettomiksi.
Nauti täydellisestä suojasta kaikkialla Enterprise Mobility +
Securityn (EMS):n avulla
Microsoft Enterprise Mobility + Security (EMS) on älykäs liikkuvuuden hallinta-alusta. Sen avulla työntekijöiden ja tiimien yhteistyö sujuu joustavasti, tuottavasti ja turvallisesti myös eri sijainneista käsin.
EMS-ratkaisuissa yhdistyvät identiteetin ja käyttöoikeuksien hallinta, tietoturva, kyberuhkien torjunta sekä pilvi- ja sovellusturvallisuus. Tällä varmistetaan, että identiteetit ja tiedot ovat turvassa niin toimistossa kuin tienkin päällä pilvessä.
Siirry uudelle aikakaudelle kaikkien aikojen turvallisimman Windowsin avulla, jossa turvaominaisuudet ovat aina päällä
Windows 10 on Microsoftin viimeisin – ja otaksuttavasti viimeinen – käyttöjärjestelmä. Se tarjoaa sisäänrakennetun turvallisuuden ja haittaohjelmien torjunnan, edistyneet hallintaominaisuudet ja etätoiminnot, joiden avulla säästyy laitteistojen asentamiseen ja päivittämiseen kuluvaa aikaa ja kustannuksia.
Säännöllisiä Windows 10 -päivityksiä, korjaustiedostoja ja parannuksia toimitetaan jatkuvasti. Tämän ansiosta työntekijöiden laitteet pysyvät päivitettyinä ja turvallisina ilman lisäkustannuksia sekä käyttöjärjestelmän elinkaaren tukipalveluiden tarve minimoidaan.
Katso, kuinka Microsoft 365 voi turvata liiketoimintasi arvoa
Onko Microsoft 365 oikea valinta sinun liiketoiminnallesi?
Liikkuvuus ja pilvipohjaiset palvelut tekevät nykyaikaisista työpaikoista tuottavampia kuin
koskaan aikaisemmin. Samalla nopeat muutokset IT-ekosysteemissä ja GDPR:n kaltaiset kysymykset
voivat aiheuttaa suuria haasteita kaiken kokoisille ja tyyppisille organisaatioille.
Tämän takia monet vaihtavat Microsoft 365:een.
Vertaile Microsoft-versioita löytääksesi sinun tarpeitasi parhaiten vastaavan.
How ALSO can help build your modern workplace
With Microsoft 365 you get a complete modern workplace solution – and when you purchase from or partner with ALSO, you also get access to unlimited expert support.
Planning
ALSO can help scope and plan Microsoft 365 implementation regardless for all sizes and types of organization.
Migration
ALSO offers full support for migration and can mobilise dedicated teams in time-pressured situations.
Licensing
ALSO provides expert guidance on Microsoft licensing to ensure the most cost- effective plan.