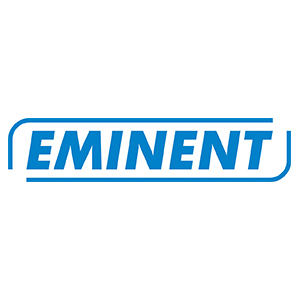 Company
"Eminent means excellent and that is what we want to be"
Eminent's goal is to provide high-quality domotics solutions and ICT accessories that enable customers to take advantage of the opportunities that the digital world offers them. Eminent strives to optimally support users and resellers of their products. The emphasis is on domotics, camera surveillance and HD media players.
Developed for daily use
The product developers of Eminent have a clear goal with every new product. Both the installation and the use of the product must be as simple as possible. We look at how the product works best in daily use - whether it is playing movies with an HD media player or monitoring a home with an internet camera.
As the technology improves every time and the wishes of users change, Eminent continuously works on product updates. These product updates ensure that the product not only works properly today, but also tomorrow.
The installation of a product is usually done using a user-friendly installation wizard on CD-ROM. Eminent offers Dutch manuals that explain step by step how to use a product. Technical terms have been translated into practical tips, so that manuals are accessible to everyone.
A different view of service
It is possible that an installation wizard and a manual do not give the answer to all questions. Eminent is therefore also accessible by telephone and by e-mail. The service center is known for answering questions quickly and accurately. If a product is defective, of course they also help.
We care about our looks
The beautiful and clear Eminent packaging immediately shows the function of a product. Each product group has its own color. This helps in the selection of the right product. The packaging contains application situations instead of technical terms. Eminent Point of Sale also provides material to promote the brand in the store.
For more information:
The products
Network products
Headsets & headphones
Media players
Power accessories
USB & FireWire PCI cards
USB adapters / hubs & card readers
Cables
Security products
Laptop & tablet accessories
Cleaning products
Contact details
For more information, please contact your Account manager. For B2B you can contact +32 (0) 15 48 05 50 or SALES.BE@ALSO.COM. For Retail you can contact +32 (0) 15 48 05 70 or RETAIL.BE@ALSO.COM.