Microsoft Teams Rooms
Microsoft Teams Rooms is een krachtige samenwerkingstool die de productiviteit en efficiëntie van groepsvergaderingen en discussies kan verbeteren. Zorg ervoor dat iedereen vanaf elke locatie kan worden gezien en gehoord en volledig kan deelnemen.
De intuïtieve interface, naadloze integratie met Microsoft-producten en ondersteuning voor een reeks vergaderscenario's maken het een populaire keuze voor bedrijven en organisaties van elke omvang. Deze oplossing helpt bedrijven en organisaties vergaderprocessen te stroomlijnen, de samenwerking te verbeteren en de algehele vergaderervaring te verbeteren.
Waar en hoe werkt de oplossing?
De ruimte
Van stilteruimtes tot grote vergaderruimten, Microsoft Teams Rooms is ontworpen met alle denkbare scenario's in het achterhoofd. Microsoft Teams Rooms helpt iedereen zich dichter bij elkaar en meer betrokken te voelen en volledig samen te werken.
Zie onze presentatie over ruimten voor meer informatie.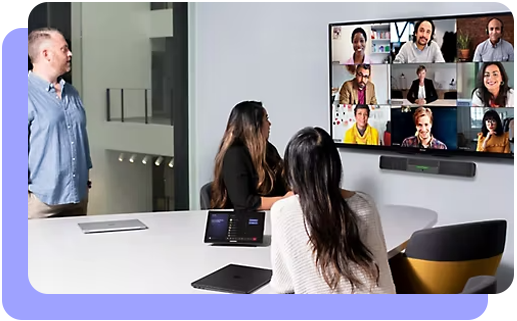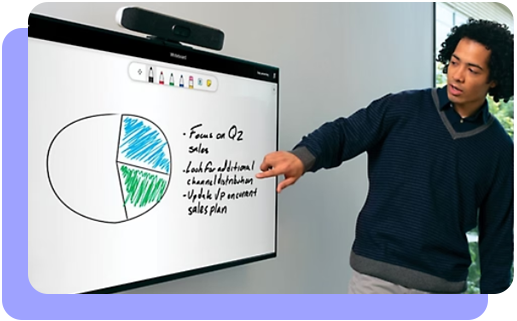 De technologie
Microsoft Teams Rooms werken met een breed scala aan oplossingen voor beeld en geluid, van zowel Microsoft als externe aanbieders. Door de juiste keuze te maken, halen gebruikers het maximale uit hun vergaderingen.
Zie onze presentative over technologie voor meer informatie over beeld en geluid.
Microsoft Teams Rooms is beschikbaar op de ALSO Cloud Marketplace. Met ALSO Cloud Marketplace krijgt u toegang tot een breed aanbod aan hoogwaardige diensten van geselecteerde en betrouwbare Service Providers. Bundel, verkoop en beheer een unieke mix van services in verschillende categorieën afgestemd op de huidige marktvraag.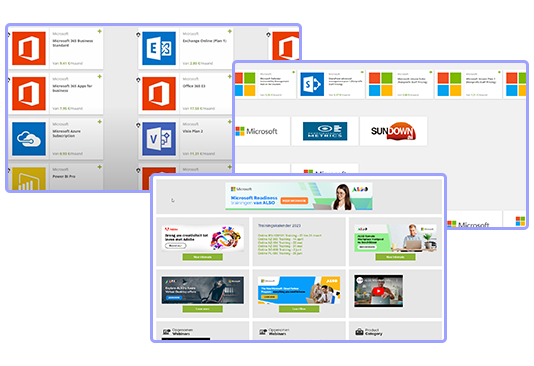 Hardware koppelen met Microsoft Teams Rooms
Haal het maximale uit Microsoft Teams Rooms met de beste en meest compatibele hardware. Niet alleen is de Microsoft Teams Rooms compatibel met Microsoft Surface HUB, maar ook met hardware van grote leveranciers als Poly en Logitech, om voordelige aanbiedingen waarmee u aantrekkelijke pakketten met Teams-ruimten kunt samenstellen, voor een ongeëvenaarde oplossing voor hybride vergaderingen.
Ga via de onderstaande link naar de webshop van ALSO om de producten te bekijken.

Dankzij de one-touch join, het eenvoudig delen van content en de controle in het midden van de kamer maken de Microsoft Teams Room-oplossingen met Logitech Tap videovergaderingen eenvoudig en gemakkelijk.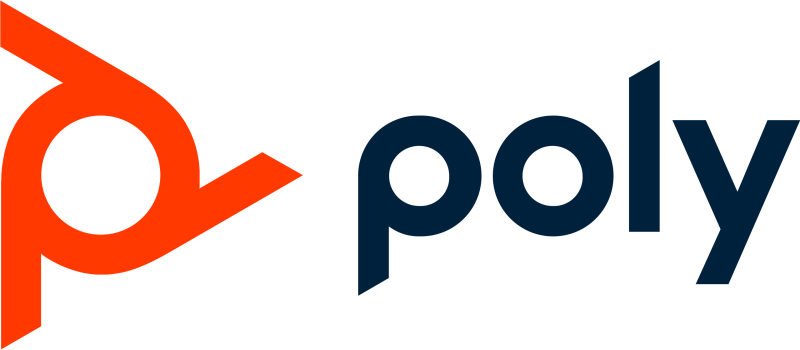 Of het nu gaat om een groepsbijeenkomst of een vergadering voor alle medewerkers, slechts een paar deelnemers op afstand of grotendeels virtueel, Poly Studio Room Kits voor Microsoft Teams Rooms brengt iedereen samen. De complete oplossing is volledig uitgerust met Poly AI-gestuurde audio- en videotechnologieën, een compacte samenwerkings-pc en gebruiksvriendelijke touch controller, zodat uw ervaring naadloos is.

De vergaderervaring van Teams Rooms op Surface Hub is afgestemd op de vertrouwde ervaring die gebruikers kennen van hun persoonlijke apparaten, met aanpassingen voor een groot scherm. Door Teams op Surface Hub te openen, krijgen gebruikers toegang tot belangrijke functies zoals vergaderen met één druk op de knop, Meet Now en Dial Pad voor PSTN- of peer-to-peer-gesprekken.
Microsoft Teams Rooms Video
headline h1
headline h2
You know what I do in those situations? Marty, don't be such a square. Everybody who's anybody drinks. This is uh, this is heavy duty, Doc, this is great. Uh, does it run on regular unleaded gasoline? Doc, you don't just walk into a store and ask for plutonium. Did you rip this off? Marty, this may seem a little foreward, but I was wondering if you would ask me to the Enchantment Under The Sea Dance on Saturday.
Marty, are you alright? Oh, you make it sound so easy. I just, I wish I wasn't so scared. Now Biff, don't con me. There's that word again, heavy. Why are things so heavy in the future. Is there a problem with the Earth's gravitational pull? Nothing, nothing, nothing, look tell her destiny has brought you together, tell her that she's the most beautiful you have ever seen. Girls like that stuff. What, what are you doing George?
headline h2
Pretty Mediocre photographic fakery, they cut off your brother's hair. yes, Joey just loves being in his playpen. he cries whenever we take him out so we just leave him in there all the time. Well Marty, I hope you like meatloaf. Of course not, Biff, now I wouldn't want that to happen. Now, uh, I'll finish those reports up tonight, and I'll run em them on over first thing tomorrow, alright? Doc, is that a de- Great good, good, Lorraine, I had a feeling about you two.
headline 2
C'mon, c'mon. I noticed you band is on the roster for dance auditions after school today. Why even bother Mcfly, you haven't got a chance, you're too much like your own man. No McFly ever amounted to anything in the history of Hill Valley. Holy shit. I'll be at my grandma's. Here, let me give you the number. Bye. You're gonna be in the car with her.
I followed you. His head's gone, it's like it's been erased. I don't know, but I'm gonna find out. Hey, McFly, I thought I told you never to come in here. Well it's gonna cost you. How much money you got on you? No.