Barrière 1: Geen gemeenschappelijke doelstelling of doelen
Teams komen in de problemen wanneer individuele
leden onzeker zijn over hun eigen verantwoordelijkheden en hoe deze zich verhouden tot algemene projectdoelen. Dit leidt tot verwarring en verdubbeling van taken.
Microsoft Office 365 biedt een reeks geïntegreerde projectbeheertools om ervoor te zorgen dat iedereen op één lijn en aan het werk blijft - van de eerste brainstorm tot de uiteindelijke oplevering.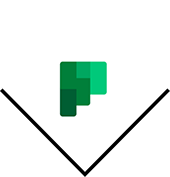 Microsoft Planner
Biedt een centraal platform voor het creëren en delen van tijdlijnen, taken en projectstatus.
Barrière 2: Gebrek aan vertrouwen
Vertrouwen is de hoeksteen van productief teamwerk. Maar aangezien mobiel werken en telewerken face-to-face vergaderingen minder gebruikelijk maken, kan het gebrek aan fysieke nabijheid zich vertalen in een lager niveau van vertrouwen en verantwoording.
Moderne werkplekoplossingen van Microsoft bevatten geavanceerde communicatiefuncties waarmee teams inhoud, context en persoonlijkheid kunnen delen.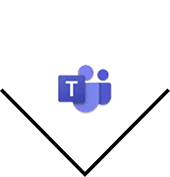 Microsoft Teams
Biedt videoconferenties en schermdeling van hoge kwaliteit.
Bevat ondersteunende functies zoals het maken van notulen, opnemen en instant messaging.
Hiermee kunnen gebruikers deelnemen aan alle soorten vergaderingen: spontane, geplande, externe en grootschalige live en on-demand evenementen.
Gebruikers kunnen deelnemen aan vergaderingen via een brede reeks aan platformen en apparaten, waaronder desktops, browsers, mobiele apparaten en apparaten voor vergaderruimtes.
Door gebruik te maken van cloudopnames en automatische transcriptie- en vertaalfuncties, biedt Teams een intuïtieve zoekfunctie waarmee gebruikers snel vergaderinhoud kunnen vinden.
Barrière 3: Trage communicatie
Regelmatig wachten op input, feedback van de groep of beslissingen van het management kan het moreel van het team uitputten en het momentum in de workflow verminderen.
Met gebundelde instant-communicatietools stelt Office 365 mensen in staat om samen in te checken, antwoorden te geven en problemen op te lossen - in realtime.
Barrière 4: Bewerkingsverwarring
Niets frustreert samenwerking meer dan meerdere documentversies met tegenstrijdige bewerkingen en verwarrende bestandsnamen. Slecht versiebeheer resulteert in verloren werk, overschreven bestanden en verspilde tijd.
Door realtime samenwerking in documenten over verschillende locaties en apparaten mogelijk te maken, stelt Office 365 teams in staat om één bestand samen te schrijven, er toegang tot te krijgen, het te bewerken en op te slaan alsof ze gezamenlijk op één locatie waren. Elke wijziging wordt bijgehouden, dus iedereen heeft dezelfde informatie.
Barrière 5: Gebrek aan betrokkenheid
Teamleden die niet de kans krijgen om kennis te delen of hun mening te geven over belangrijke beslissingen, zullen zich minder snel betrokken voelen.
Door het faciliteren van mogelijkheden om te netwerken tussen afdelingen en functies, stimuleren de moderne werkplekoplossingen van Microsoft een meer open, innovatieve en samenwerkende omgeving.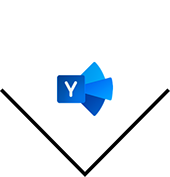 Microsoft Yammer
Stimuleert inclusie en snellere besluitvorming
Maakt snellere kennisuitwisseling mogelijk
Heeft u een IT-partner nodig om te helpen bij het ondersteunen van uw team?
Als een van Europa's grootste end-to-end IT-dienstverleners hebben ALSO-partners de ervaring om op maat gemaakte Microsoft-teamwerkoplossingen te leveren voor alle soorten bedrijven, waarbij de zakelijke behoeften en het budget in elke oplossing worden afgestemd.