SKYKICK - Cloud Management for Partners

SkyKick een geïntegreerd platform om IT resellers succesvol te zijn in de cloud. Op dit moment heeft SkyKick 20.000 succesvolle partners en is groeiend. SkyKick heeft een krachtige set aan Cloud management oplossingen bestaande uit: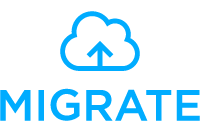 Veilig en gemakkelijk geautomatiseerd migraties uitvoeren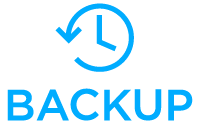 Ongelimiteerde backup, eenvoudige setup en herstel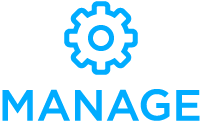 Al je SaaS-applicaties in een centraal dashboard overzichtelijk bij elkaar


SkyKick biedt partners een set aan tools om de migratie, back-up en management van hun klanten te vereenvoudigen. Met SkyKick migratie kun je eenvoudig de data van je klanten migreren naar Office 365. Als je klanten al gebruik maken van Office 365, helpt SkyKick Cloud Backup bij het opslaan en beschermen van bedrijfsgegevens. Om vervolgens alle gebruikers en applicaties te beheren, maak je gebruik van de SkyKick Cloud Manager.
Voorspelbare, stress-vrije Office 365 migraties
De SkyKick Migration Suite helpt partners om geautomatiseerd naar Office 365 te migreren. Van pre-sales tot volledige afronding van het project. Migratieprojecten kunnen complex en tijdrovend zijn. En bestaat uit veel stappen om veilig en naadloos over te gaan naar de cloud.
SkyKick heeft de SkyKick Migration Suite ontwikkeld om partners een geautomatiseerde migratie oplossing te bieden om de cloud activiteiten te versnellen. Deze suite is inclusief uitgebreide planning, nauwkeurige provisioning, geen verlies van gegevens en het zorgt voor een geweldige ervaring voor eindgebruikers. In tegenstelling tot andere migratiehulpprogramma's die zich voornamelijk richten op het verplaatsen van gegevens aan de serverzijde (één stap in een uitgebreid migratie traject) automatiseert SkyKick 90% van de handmatige inspanningen en helpt het partners bij het beheren van alle essentiële stappen in het hele migratie traject.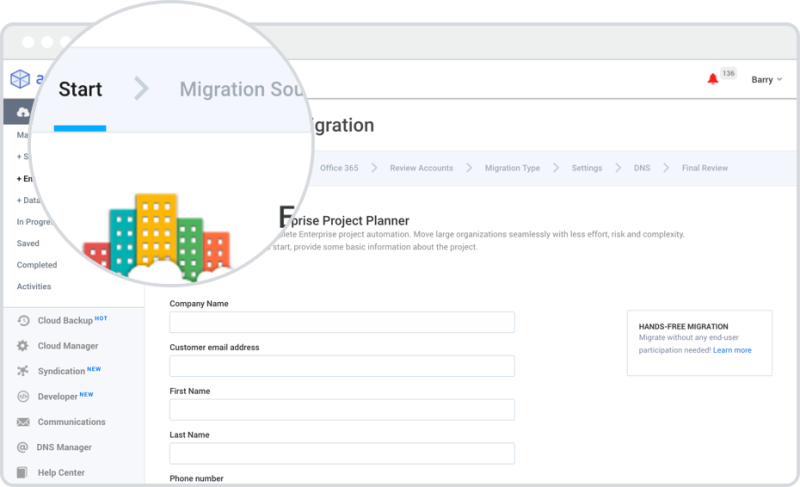 Meer informatie
Bescherm je Office 365 klanten en breid jouw terugkerende inkomsten uit door Office 365 en SkyKick Cloud Backup te combineren. Data verlies gebeurt, zelfs in de cloud.
Mensen verwijderen gegevens. Meestal per ongeluk, soms opzettelijk. 75% van gegevensverlies is te wijten aan het verwijderen van inhoud door mensen en 32% van de bedrijven hebben ooit te maken gehad met dataverlies. Dat betekent dat partners zelfs in de cloud veel tijd kwijt zijn om klanten weer up-and-running te krijgen. Zonder een Office 365 cloud back-up oplossing missen jouw klanten het fundamentele stuk gegevensbescherming als aanvulling op de oorspronkelijke Office 365 functies.
SkyKick Cloud Backup biedt partners de mogelijkheid om klanten te beschermen met een snelle, gemakkelijke manier om bedrijfsgegevens snel te herstellen en een geweldige klantervaring te bieden. Het is ook een eenvoudige manier om terugkerende inkomsten te genereren in jouw organisatie.
SkyKick Cloud Backup helpt bij het gemakkelijk opslaan en beschermen van bedrijfsgegevens voor Microsoft Office 365, Exchange Online, SharePoint en OneDrive. De kosten zijn niet berekend op basis van de hoeveelheid data, maar op basis van het aantal gebruikers. Je klant profiteert van onbeperkte opslag en met één klik kun je verloren Office 365 gegevens herstellen.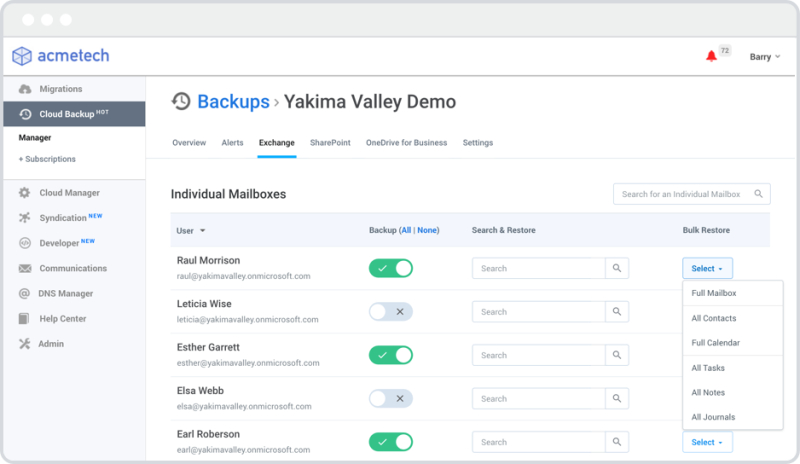 Meer informatie
Beheer je klant efficiënt
Beheer gebruikers
Voeg medewerkers toe of verwijder medewerkers, beheer wachtwoorden en beheer de gebruikerstoegang tussen meerdere SaaS-providers vanuit één dashboard.
Beheer groepen
Met sjablonen kun je groepen gebruikers beheren. Verander providers, licenties, distributiegroepen en andere attributen voor een team of gebruiker met één enkele klik. Sjablonen zijn vooraf gedefinieerde collecties van toegangsrechten, licentie- en lidmaatschapsinstellingen voor een of meerdere SaaS-providers.
Beheer Providers
Met een intuïtieve interface kun je eenvoudig de cloud-apps van jouw klanten toevoegen, configureren en beheren, zoals Office 365 en Dropbox (en meer oplossingen volgen).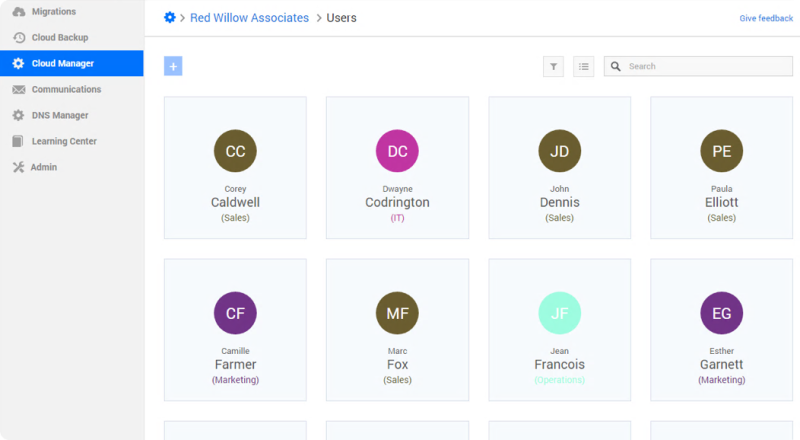 Meer informatie