HPE MSA Storage
Une technologie de stockage de pointe à prix économique
Aujourd'hui dans sa 5e génération et avec plus de 500 000 unités vendues, l'offre HPE MSA Storage s'est imposée grâce à des solutions de stockage de pointe à des prix adaptés aux petites entreprises. Il s'agit de LA plateforme SAN Fibre Channel numéro un sur le marché depuis cinq ans (1). Qu'il s'agisse de l'ultra-abordable M1050 ou du M2050 ou M2052 aux performances de pointe, la gamme HPE MSA Storage est le choix idéal pour les PME.


S'adapte à tous les besoins de stockage des PME
La technologie HPE MSA Storage améliore les performances informatiques et augmente la productivité. Le stockage HPE MSA Storage est rapide, simple, fiable, flexible et économique. Il surpasse la concurrence en matière de sécurité, d'IOPS, de facilité de maintenance et de rapport coût/performances.

Notablement rapide
Lorsque l'entreprise est prête pour le stockage flash, la technologie MSA est prête à s'atteler à la tâche. Le HPE MSA 2052 est équipé d'1,6 To de stockage flash intégré, pour une économie de 40 % par rapport à l'achat de disques SSD dans le commerce.

Pratique et simple
La hiérarchisation automatisée des données en temps réel répond de manière dynamique aux évolutions des charges de travail ; vos clients n'ont pas à s'en occuper et se retrouvent déchargés de la gestion du stockage. Une interface intuitive rend la gestion des baies HPE MSA Storage pratique et simple. Un assistant de démarrage rapide en neuf étapes facilite le déploiement.

Robuste et fiable
Mise à niveau sans déplacement des données : en à peine 15 minutes, vous mettez à niveau un M1050 vers un M2050 ou M2052 en ajoutant simplement des cartes de contrôleur supplémentaires, avec pour effet de doubler les performances en lecture et écriture. Sans aucun temps d'arrêt. Tous les contrôleurs disposent de 8 Go de mémoire cache, d'un super-condensateur et d'une carte CompactFlash, ce qui vous apporte la garantie d'une protection maximale des données, même en cas de panne totale de courant.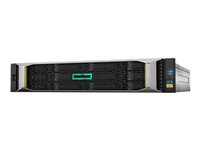 La plateforme de choix pour les charges de travail informatiques légères
Les baies double contrôleur à deux ports offrent une connectivité hôte FC, iSCSI et SAS au prix d'un contrôleur unique.
Disponible en version 12 disques LFF (Large Form Factor) ou 24 disques SFF (Small Form Factor).
Veuillez contacter notre Customer Care par téléphone au 041 266 16 16.
En savoir plus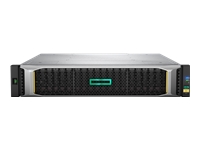 Même caractéristiques que le modèle 2050, mais avec 1,6 To de capacité SSD en standard.
Plus suite logicielle HPE MSA Advanced Data Services (ADS) – Logiciels Performance Tiering and Archive Tiering / 512 Snapshots et Volume Copy / Remote Snap.
Prise en charge de Windows Server 2019.
Veuillez contacter notre Customer Care par téléphone au 041 266 16 16.
En savoir plus
L'heure est venue de faire profiter vos clients PME de MSA
Toute entreprise cherche à aller de l'avant. À l'heure actuelle, si vous ne proposez pas à vos client l'offre HPE MSA Storage, LA plateforme SAN Fibre Channel numéro un sur le marché, alors vous les freinez. Positionnez cette offre attractive sans plus attendre, laissez vos clients faire l'expérience des performances de la technologie HPE MSA et de ses avantages pour leur activité, et vous ne tarderez pas à engranger les retombées pour la vôtre.