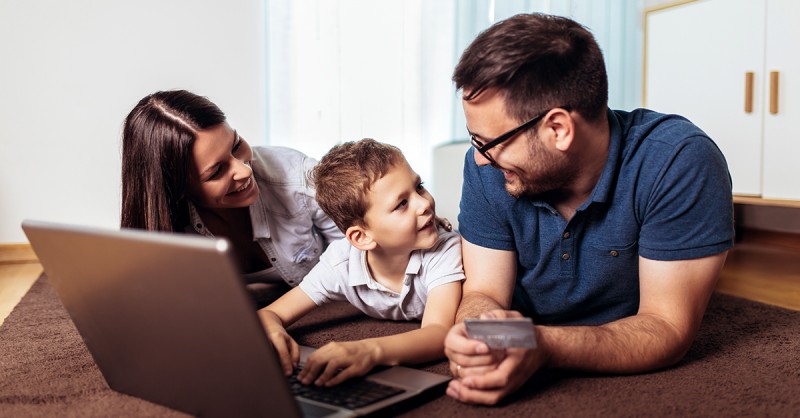 Rules & Times
Tips for Secure Online Shopping for Children
Online shopping is fun and convenient. In most countries, children over a certain age are allowed to shop online, at least up to the estimated amount of their pocket money. However, a few rules should be observed:
Do not shop alone.
Children under 14 should generally not shop alone on the Internet, even if the purchase is paid for with their own (pocket) money. Discussing wishes with parents beforehand, not putting things in the shopping basket straight away – this helps to avoid making purchases that leave you frustrated afterwards. On top of this, even deals which were not closed can lead to being bombarded with the same or similar products every time you sit at the computer.
Never shop without the little "s".
The website address is preceded by "https"? That's good: it indicates that all the information you enter is encrypted. This means, for example, that no one on the Internet can pick up entered credit card numbers or passwords. You can also recognize secure pages by the lock symbol in front of the name.
Beware of bad grades.
It's worth looking at the reviews of other users before ordering. Do they often say that the clothes fall to shreds after being washed twice? Or even that they were never delivered? Then better keep your hands off. Exclusively positive reviews should also make you suspicious, as they could be bought.
Only shop on secure networks.
Ordering things online on the train or in a café can go wrong. Wifi access in public places is often not well secured, and in the worst case, fraudsters can intercept data. It's best to make sure that the Internet connection at home is properly protected and order from there. If you use your smartphone, it's better to use the app of a shop than the mobile website, because that's also more secure.
Don't fall for fake shops!
You can't find any entry on the website about how to return things? There is no address? Then you ended up on a fake shop. Quite often such sites are also strangely designed or contain a conspicuous number of oddly constructed sentences and spelling mistakes. Much cheaper prices than in other shops or alleged super deals that are only valid for five more minutes are also an indication that something may be wrong here.
Use secure means of payment.
On the Internet, it is often advisable to pay with a credit card or via a payment service such as Paypal. This way you can get your money back more easily if the ordered goods never arrive or if you accidentally order from a fake shop. You also should only ever buy from suppliers who require the security number on the back of the credit card when paying. In most cases, payments are made via the credit card or the Paypal account of the parents. They must therefore be in the know and agree to the purchase! In general, it is always good to think before making a purchase and to discuss it briefly with the parents.