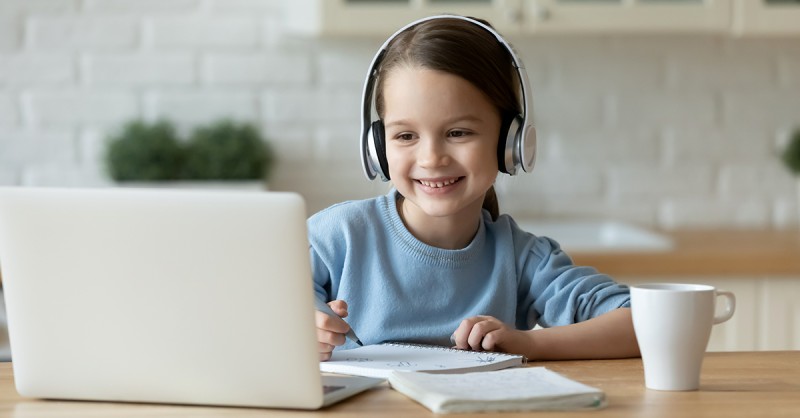 Hardware & Software
Hardware: Basic equipment for online learning at home
Whether it's a tablet, a notebook, or a convertible, kids need the right equipment to make online learning at home fun and not harmful to their backs or eyes. The basics at a glance:
Full HD and the right size: The screen
If elementary school students don't prefer to use a tablet anyway, smaller displays with 13 inches are usually sufficient if they work with notebooks. Devices in this size are still pleasantly easy to carry. Because teenagers in particular often have several windows open at the same time, they might be better served with larger screen sizes. More than 14 or 15 inches are impractical, however, if the device also has to fit into the school bag. If you sit in front of the computer for a long time at home, you should use a large, external monitor with a docking station anyway, so that you don't have to look down too much. No matter how big the screen is: A good resolution ( Full HD) and anti-reflective coating are essential to keep the eyes healthy.


Performance data and integrated functions: Don't make false economies
A powerful processor and preferably an SSD hard drive with at least 128 GB are definitely important. The device should also have at least 8 to 16 GB of RAM. Otherwise, frustration levels are bound to rise, at the latest when more complex programs or games take up memory. Don't want to invest in extra accessories? Then definitely look for an integrated camera with a decent resolution, 1280x720 pixels are the minimum. And a keyboard that is easy to use, preferably a keyboard case for tablets: this can be used as a stand for the device as well as for typing. Or you can choose a versatile Convertible that combines notebook functions and touchscreen.


Headphones or headset: More focus in the family classrom
Headsets, or at least headphones for each family member, are worth their weight in gold if you don't want to drive each other crazy. Many primary school children prefer over-ear devices to in-ear versions, which can feel rather strange. Especially when there's a lot going on at home, headphones with an additional noise-cancelling function are worth their while. Wireless headsets are a bit more expensive, but a good idea for lively kids: If you don't have a cable attached to the device, you can't accidentally sweep your laptop off the table when you need to quickly pet the cat.


Comfy and bright: the perfect workplace for digital kids
Feet flat on the floor, sitting as upright as possible and with plenty of daylight in the room: what applies to adults is also true for children's computer workstations. They should also be at least 50 centimetres away from the screen and sit in front of it instead of to the side. As a rule of thumb, the top edge of the screen should ideally be exactly at eye level. Now the only thing left to do is remember to look outside every now and then and to blink - then you have already covered most important basics for online learning at home.