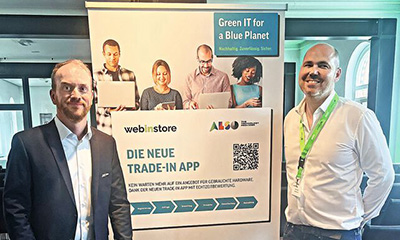 No more waiting for a used hardware quote.
Webinstore creates a real win-win situation with its comprehensive program. The range includes all devices from smartphones to workstations and all customer groups from consumers to commercials. It is the most comprehensive offering on the market and one of the first of its kind in the channel.
The offer is attractive for resellers for three reasons: You can offset the residual value of the returned goods against the purchase price of the new devices and thus generate new business more easily. Their own portfolio is immediately upgraded and together with their customers they contribute to the development of the circular economy.
Handling is extremely simple: Customers can access the trade-in app via the ALSO web shop. It shows the residual value for each item entered and creates an offer for the current version of the device in question in real time.
The return and reprocessing of the devices is also completely in line with the recycling economy: There are safe and reusable transport boxes for sending in the devices, ALSO's own company for refurbishment and recycling is certified according to the highest standards, both for the deletion of any data on the old -devices as for the further processing of the devices.