In the Smart Industry sector, the new technical possibilities make processes more convenient, safer and more efficient. Production processes and services are interlinked by modern information and communication technology - from development to production, use, maintenance and recycling.
Solution partner in the Smart Industry sector
The aim of RealWear is to support people in their working environment and thus to ensure more safety and higher productivity at the workplace.
The RealWear "Head Mounted Tablet" HMT-1, is the first robust Android-class tablet to be worn on the head. It ensures that hands are free at all times to work on machines or provide help through voice control, with which documents can be opened and viewed.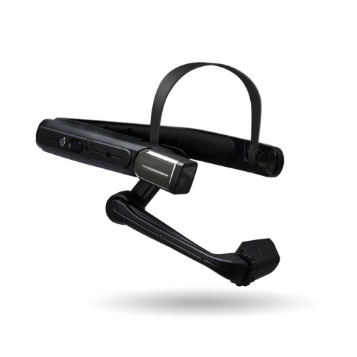 Support operations via live image streaming (video conference)
The view of the technician on site is important. With the HMT-1, this goes beyond borders, no matter where you are.
• So the expert - wherever he may be - sees exactly what the technician sees on site.
• A field service technician checks a technical system at one of your locations worldwide and wears the Realwear HMT-1
• He needs support and calls in an expert - wherever he may be.
• The camera transmits the technician's field of vision via a remote service app to a business expert in the company.
• The expert supports the technician's work with voice instructions that the technician hears on site. The technician has both hands free to do the work unhindered using the appropriate tools.
• Your experts help your technicians and customers worldwide quickly and cost-effectively - and everyone gains satisfaction...