From selling to billing
ALSO Cloud Marketplace automates the cloud business process
ALSO Cloud Marketplace is the one-stop-shop solution for ALSO partners. With ALSO Cloud Marketplace, partners can bundle, sell and manage cloud services from selling to billing through one online interface. The following key functions are included:
Service Feature
Manage your marketplace
Service Tool – manage your marketplace. Service Providers can easily add and manage their services in the Marketplace. Configure the service parameters, upload an icon and support materials, choose where and how to provision the service, and you're good to go.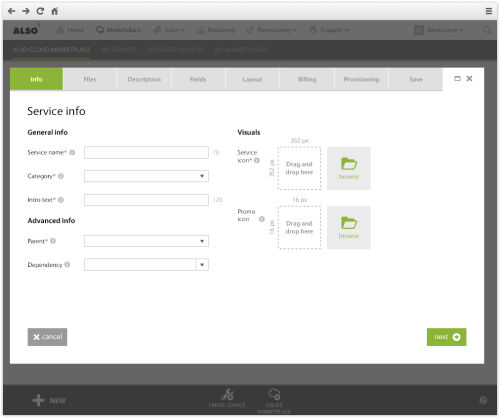 Provisioning Feature
Easily create and manage customers, users and services
Provisioning Tool – easily create and manage customers, users and services. ALSO Cloud platform radically simplifies the creation and management of customers, users and services. Channel Partners can provision and orchestrate their service offerings 100% automatically in an intuitive user interface, without worrying about the complexities of service configuration, dependencies and workflows.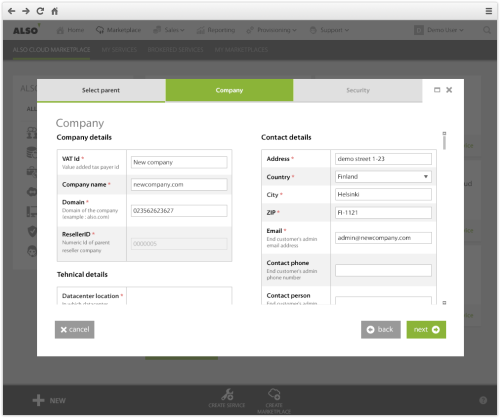 Reporting Feature
From data to intelligence
Reporting Tool – from data to intelligence. Reports can be created out of any data, as best suits your purpose. Present data in intuitive formats including bar, pie and line diagrams as well as tables. Reports can be saved, and the data itself exported to a 3rd party business intelligence tool if required.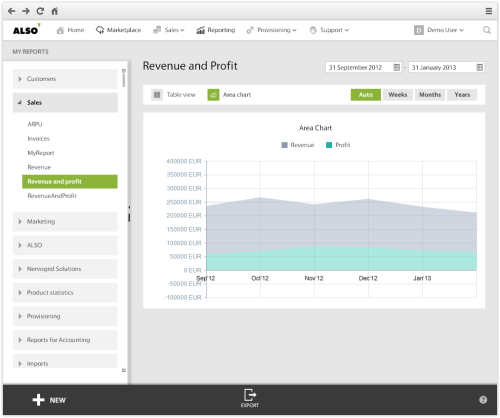 Self-Care Feature
Out-of-the-box self-service for end users
Self-Care Tool – out-of-the-box self-service for end users. Channel Partners can provide a fully branded set of convenient self-service capabilities to their customers' users, like resetting passwords, editing contact details, and downloading user guides and software.