Windows 10 Enterprise E3 in CSP − Enterprise-grade security: now available in ALSO Cloud Marketplace!

Windows 10 Enterprise E3 is the latest addition to the Cloud Solution Provider program. Enterprise E3 gives small businesses access to enterprise-grade security and control capabilities through a simple, per-user, subscription licensing model that aligns with Office 365 (O365) and Enterprise Mobility Suite (EMS).
With Enterprise E3 in CSP, you can create new customers and additional revenue streams, increase your profit and expand your role as strategic advisor.
The most secure edition of Windows, featuring per-user, per-month pricing and a pay-as-you-go subscription model to provide new business opportunities for SMBs.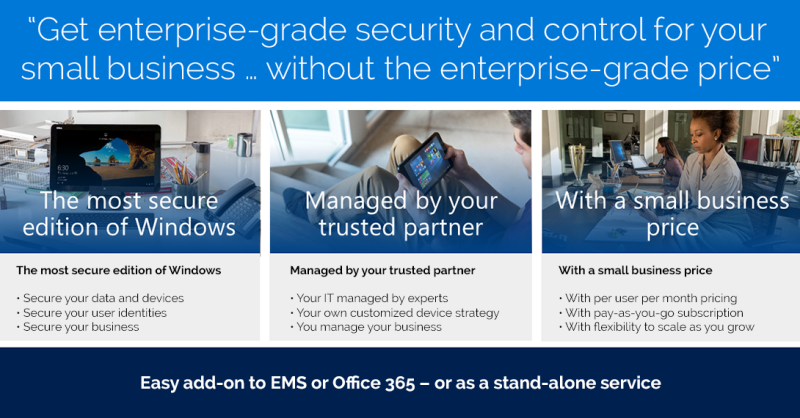 Details
With Windows 10 Enterprise E3 in CSP, the total addressable market increases to 30% of SMBs in developed markets
1-seat minimum, no seat limit
1-year commitment (coterminous)
Up to 5 devices per user
Rollback to Pro functionality when subscription lapses (90-day grace period)
Seamless deployment from Windows 10 Pro Anniversary Update via Azure Active Directory (AAD) sign-in
Log in to ALSO Cloud Marketplace to find out more!
Attend the Windows 10 Enterprise E3 webinar
Attend the webinar and learn more about new features, customers' use cases, value proposition and see a live Windows 10 Enterprise demo. Register here now!