24SevenOffice
24SevenOffice is Europe's first 100% web-based ERP system delivered on Cloud Computing technology and SaaS (Software as a service). 24SevenOffice provides businesses with a powerful SaaS-based ERP system - with CRM, Financial and Accounting, Project Management, Time registration, Reporting, Travel expenses on all platforms fully integrated. The company was born in the Cloud and established in 1997 and is now the largest ERP supplier for medium sized customers in the Norwegian market. Examples of customers in the 24SevenOffice family is PwC, KPMG, Mercell, Kolonial.no, HAB Construction, Preem, Frank Walton, Nobel Catering & Conditori.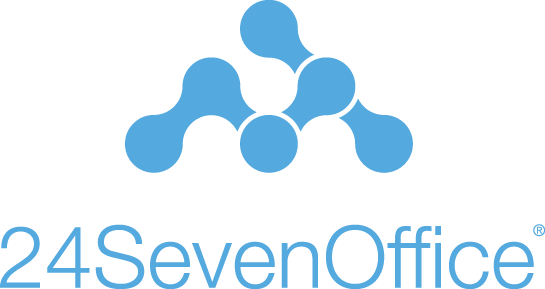 Top Services
24SevenOffice Mobile
A busy working day has more than one modus operandi – and consists of a wide spectrum of ways of working. This means that flexible tools, which make it easy to provide input and stay updated, are important – irrespective of whether they are provided from a laptop, smart phone or tablet. 24SevenOffice Mobile has been developed with the goal and intention of being a useful tool in those circumstances where it is natural to use the mobile to keep up to date – or to perform tasks during the working day. Advantages of using 24SevenOffice Mobile:
- Reporting while on the move
- Time registration
- Approval of receipts
- Travel and expense accounts
- Submit orders continuously
- Continuous access to customer and supplier information
- Update Sales opportunities and pipeline – and get updated by push messaging
- Manage files and documents

24SevenOffice Finance and Accounting
24SevenOffice's web-based Finance and Accounting software has everything you need, fully integrated into one complete system. The system deals with all formats for incoming and outgoing receipts, and all functions are fully integrated; from scanning, EHF, receipt, authentication, invoicing, banking, accounting and ledgers to reporting, with drill down to receipt level. 24SevenOffice makes continuous invoicing effective – using invoice templates customized to the businesses' needs and profile. For example, through 24SevenOffice Mobile each employee can easily and continuously record their hours worked and basis for invoicing linked to a project. The basis for invoicing is thus automatically in place. All invoices are automatically recorded – and payments are automatically matched against the ledger. The bottom line is that you always have reports available in real time – with full traceability and drill down to receipt level. You can also build your own customized Dashboard in 24SevenOffice with «widgets» for everything from liquidity, invoicing and balance to profit. 24SevenOffice has a powerful bank module, and is automatically integrated with Norwegian and Swedish banks. 24SevvenOffice support the ISO20022 bank payment format.

Work in the same system as your accountant

24SevenOffice allows customers and accountants to work transparently in a single system and in real time on a common, cloud-based, platform. Some businesses keep a large part of their finance operations 'in-house' while others leave a majority of the task to their accountants. With 24SevenOffice you can arrange work flow flexibly and optimally for your business – so you can take care of those tasks which are appropriate for you to resolve yourself, and use accountants where it is natural to do so. For example, for accounting, reporting, year-end statements and consulting. Your accountant and auditor also has free user access to the system.
24SevenOffice CRM
24SevenOffice CRM provides you with a core Customer Relationship Management (CRM) system which you can use to manage all your sales and customer processes. The solution is, of course, seamlessly integrated with the other modules in the system such as accounting, project management, hour registration and collaboration, but is also suitable for integration with a variety of other solutions such as marketing automation, campaign tools and customer service, to mention a few.
24SevenOffice CRM provides a complete overview of your customers, contacts and suppliers from a single location. All information about your customers, partners, suppliers and other contacts are linked to your unique customer card in CRM. All information and interactions with your customers, e-mail communications, notes, contracts, order history, ledgers and all files associated with the customer card are found here. A key prerequisite to winning more sales is spending time on the right prospects. With 24SevenOffice your company can customize their sales process relative to your criteria and method of working. In this way it is easy for everyone in the sales team to manage their time properly – and focus on the right tasks, based on insight, activity and progress. Adopting the 24SevenOffice CRM system as your sales support tool offers everyone in your sales team a real time summary of how many sales projects are in the pipeline, phases, likelihood for sale and period based forecasts.
24SevenOffice Project and Time Management
For each project and consultancy operation, it is important to have complete control of all phases of a project – from planning, implementation and time registration to finance. 24SevenOffice Project and Time Management gives you, all in one place, a number of smart solutions for managing your projects – regardless of whether you are on the move or in the office.

Using 24SevenOffice, customers can create a number of categories, products and services; everything from different hourly rates to transport, equipment and materials. This is automatically available in the Project Module, so that employees can easily record anything from hours worked to consumption of materials and equipment, direct from a laptop, tablet or smart phone – from the office or when out on an assignment. From all devices, each user has a full overview of his or her active projects, the most recent projects they have spent time on – or the projects they have been invited to or which have been added by the project manager. Users can, of course, also create new projects directly from their mobiles.
Some of the advantage with this solution:
- Full project overview from start to finish
- Full control of project finances
- Keep everyone in the team continuously updated
- Gain insight via Dashboard and advanced reports
- Effective document sharing
- Add a free number of project participants
24SevenOffice API and Integrations
It is well known that every customer is different. That is why 24SevenOffice has invested in an open API, which in brief means that the system is adapted for integration with other systems, at a far lower cost compared to traditional software. This means that ALSO resellers can make use of 24SevenOffice API to integrate other solutions and tailor this for their customers. Combined with sales of other solutions like Microsoft Office365, there is a lot of potential for new revenue for ALSO resellers. ERP is the heart in the company. The supplier of ERP software has a lot of influence of the total IT environment at their customers. Selling ERP gives the ALSO reseller a new dimension in their sale. Examples of integrations is Intrum Justitia, Magento, Front Systems (POS), Dun & Bradstreet, Magento, Huldt & Lillevik, OneStop Reporting, BizView24 and Oyatel IP-telephone.