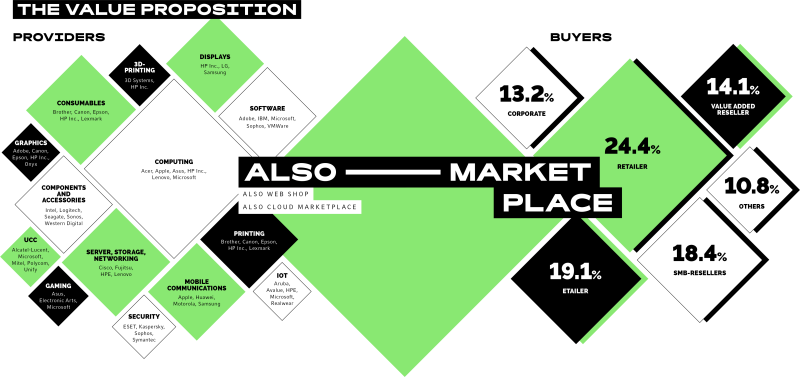 As an end-to-end service provider we bring the providers and buyers in the ICT industry together and offer them services at all levels of the value chain from a single source. The basis of ALSO's business models are the two customer categories "providers" and "buyers". Marketing in the ICT industry is largely a three-step process. In a first step, the providers supply the ALSO companies. In a second step, these supply a very heterogeneous selection of buyers, which in a third step serves the end customers.
The ALSO Group has a portfolio of more than 550 vendors in the ICT product categories of hardware, software, and IT services, including all global market leaders. Because of non-existent scaling effects, small and medium-sized buyers are not always served directly by the providers. Here, ALSO takes over aspects such as fine logistics and financing. For the provider, outsourcing these tasks results in a reduction of complexity, and thereby in easier access to the various channels and regions. Smaller providers, who have no country organization of their own, use ALSO to obtain access to the market.
On the buyer side our customers include retailers and etailers, for which we provide flexible and just-in-time delivery of goods with our Supply business model. Larger buyers, which for economic reasons outsource functions and processes, have the possibility of downloading these from ALSO as modular services. A further very important customer group are the resellers, which diversify into Value Added Reseller and the group of SMB resellers. Value Added Reseller add additional value to standard products, e.g. by delivering hardware with their own preinstalled software. SMB resellers, for example system houses for specific digital use cases, are often IT partners for companies or authorities. We offer them the whole range of ALSO's competences, from Supply to Solutions and as-a-Service, on a transactional as well as a consumptional basis.
Become a customer